Preparing for Baby
The ABC's of Childbirth
Preparing for a baby can be overwhelming. Join us for a comprehensive series of four classes designed to prepare the expectant mother/parents for childbirth. Taught by certified childbirth educators, topics covered will include labor, delivery, comfort measures, breathing and relaxation, medical procedures, cesarean birth, understanding newborns and postpartum care.
2021 Class Dates
January 26th & 28th
March 23rd & 25th
May 4th, 6th, 11th, and 13th
July 20th, 22nd, 27th, and 29th
September 21st, 23rd, 28th, and 30th
November 9th, 11th, 16th, and 18th
All classes are free and will be from 7pm to 9pm in the Center for Women & Infants 4th Floor Classroom.
Pre-registration is required. Please call (432) 640-6000 for more information and to register for the classes.
Trimester Information
Please click below to view the Center for Women & Infants Trimester Information.
Follow-Through Care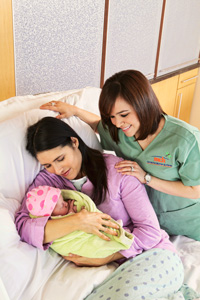 The Center for Women & Infants offers a Newborn Follow-Through program free of charge to new parents. On the day of your discharge you baby's nurse will schedule you Newborn Follow-through visit, which usually takes place 2-5 days after discharge from the hospital. One of our two Lactation Consultant/Newborn Follow-through Nurses will conduct a general assessment, weight check, and bilirubin check of your baby. Follow-through visits provide the perfect opportunity to discuss any breastfeeding concerns you may have. Any abnormal findings will be reported to your pediatrician for further assessment.
For more information, please call (432) 640-1784.
Breastfeeding Support
2021 Breastfeeding Classes – What New Moms Need To Know
February 2
April 6
June 1
August 3
October 5
December 7
The Texas Department of State Health Services has designated MCH as a Texas Ten Step Hospital. This means we are well prepared to support and assist mothers who choose to breastfeed. Two International Board Certified Lactation Consultants are available to provide complimentary breastfeeding consultations before, during and after your hospital stay.
To view the "10 Steps to Successful Breastfeeding" webpage, click here.
Telephone consultations are also available Monday through Friday, between 8 am and 6 pm. To schedule an appointment with one of our International Board Certified Lactation Consultants, call (432) 640-BABY.